Affordable Fishing at the Navarre Beach Pier
February 13, 2015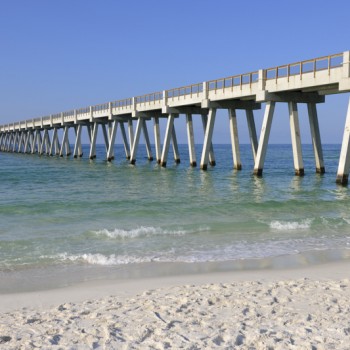 You don't have to charter a fishing boat to have a great fishing experience on the Emerald Coast. You can go over to the Navarre Beach Pier and have the fishing experience of a lifetime. The pier is 1,545 feet long and sits 30 feet over the water, offering lots of opportunities for anglers to bring in the big one. That is why the Navarre Beach Pier is such a popular choice for travelers.
Fish at the Navarre Beach Pier
You can catch Pompano, Flounder, Cobia, King Mackerel and Spanish Mackerel at the Navarre Beach Pier. Best of all, you don't need to get on a boat to reel these fish in. That makes this an affordable way to finally get the big catch.
Details
Adults pay $7 to go fishing on the Navarre Beach Pier. Seniors pay $6, while youth 15 and under fish for $4. Kids aged five and under get in for free. Your fishing license is included in the price so you don't have to buy your license to go fishing on this pier.
If you don't' have a rod, you can rent one at the pier store. You can also purchase some bait at the store. That way, you will have everything you need when you hit the pier.
Annual Passes
If you go to the Destin area on a regular basis, consider getting an annual pass for the Navarre Beach Pier. An annual adult fishing pass costs $150. Seniors pay $100. You can get a youth pass for $75. This makes sense if you plan on going to the Navarre Beach Pier quite a bit throughout the year.
If you love to fish but you aren't fond of getting on a boat, consider heading out to the Navarre Beach Pier. The pier offers an affordable way to catch some big fish during your Destin vacation.
This entry was posted in Destin Fishing Info, Destin Pier Fishing. Bookmark the permalink.