Destin Fishing Report – What's Biting in August?
August 7, 2015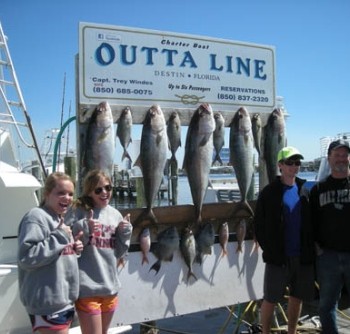 August is a great time of the year to come to Destin. The sun is shining, the water is warm, and the fish are biting. What more could you possibly ask for? Well, if there was one more thing you could get, it would be a Destin fishing report so you would know what type of fish you can expect to catch in August. We have your fishing report right here so you can pick the right gear for your August fishing adventure.
The Fish
Amberjack is the big fish in August. It just comes back into season this month so anglers come out in large supply to try to catch some. In addition, Red Snapper is usually available in August as well. On top of that, there are more Blackfin Tuna in the water in August that practically any other month so you can really catch some big fish in August.
When you look at a Destin fishing report, you will also notice that it is full of white and blue marlin. White marlin can be hard to get at some points of the year so if you have been on the lookout for them, be sure to stop by in August.
In addition, you can go after some sailfish in August.
The Crowds
During the first two weeks of August, the fishing can be crowded. That doesn't mean you can't catch anything. There are enough fish for everyone. Just be sure to book your Destin fishing charter in advance so you can reserve a spot.
If you go the last two weeks of August, you won't have to fight for space out in the water. The crowds have died down by then so you can be at one with the water.
As you can see from this Destin fishing report, there are lots of great fish to catch in August. Grab your gear and head to Destin!
This entry was posted in Fishing Report. Bookmark the permalink.