Fish N Fool in Destin
June 5, 2015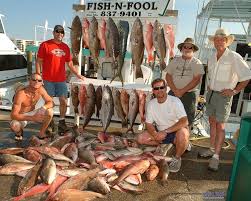 If you're looking for Destin Florida fishing charters that come with a lot of options, Fish N Fool might be the perfect company for you. Fish N Fool has something for everyone, so no matter what you want out of your fishing trip, you can find it with this company.
Let's check out what you can expect if you book a charter with Fish N Fool.
The Boat
When you go out with Fish N Fool, you will be on a boat with six passengers. The small number of passengers ensures that you will be able to catch some big fish without having to fight with others. The boat is a 40′ Infinity Sport Fishman. The company customized it so it can handle various weather conditions and can get to offshore fast. That means you will spend more time fishing when you go with the Fish N Fool. This is good news for people who can't wait to get their lines in the water. While some Destin Florida fishing charters make you wait a long time, you won't have to worry about it when you go with Fish N Fool.
Trip Overview
These Destin Florida fishing charters hold up to six passengers so you can expect an intimate fishing trip when you go out with Fish N Fool. That means you don't have to fight for space on the deck and you don't have to worry about people goofing off and messing up your trip.
The trips range from 4 hours all the way up to 18 hours and prices are by the hour. The company charges $195 per hour, so if you go on a 4 hour trip, it will come to $780. If you go out for 18 hours, it will come to $3,510.
Fish N Fool offers one of the best Destin Florida fishing charters available. If you want to fish with the big boys, book your trip with this company. 
This entry was posted in Destin Florida Deep Sea Fishing. Bookmark the permalink.