Heat Isn't Slowing Down Destin Fishing Trips
July 30, 2015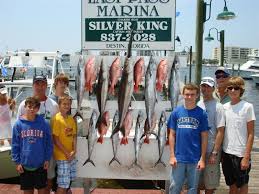 If you're worried that the heat will get in the way of your Destin fishing adventure, have no fear. People are still throwing in their lines off the piers and going on Destin fishing charters, even with the sun blazing down. In fact, people have been reeling in some impressive catches lately in Destin, even with the heat. If you have some sunscreen and something to drink, there is no reason why this heat should slow you down. With that in mind, grab some buddies and head to Destin so you can enjoy the calm summer waters.
 What Can You Catch
There are a lot of reasons to brave the heat in Destin, thanks to the big fish that people have been bringing in. People have been bringing in a wide range of fish, including mingo, white snapper, black snapper, king mackerel, and scamp. There have even been reports of people catching sharks while out on Destin fishing trips. In other words, you can expect to catch some big fish if you go fishing in Destin. That's a huge reason to come, even if the sun is beating down.
 Hot and Calm
 While it might be hot out there on the water, it has also been incredibly calm, which has been good news for people who are going on Destin fishing trips. The calm waters make it easier to sneak up on the fish. It also makes for a calmer boat ride. You don't have to worry about getting seasick on the calm waters.
If you want to go on a Destin fishing trip, the time is now. It might be hot, but the fish are biting so you are likely to come up with some huge catches during your trip. If you want to catch the big one, now is the time.
This entry was posted in Destin Fishing Info. Bookmark the permalink.