Jack is Back in Destin
July 23, 2015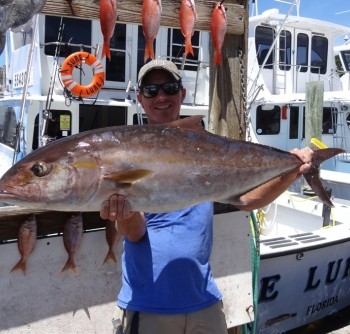 It's that time of the year again. It's finally Amberjack season! The season opened on August 1 and the hard-pulling fish is already biting like crazy. If you want to catch some amberjack, book a Destin fishing charter so you can get in on the action. Your captain and crew will help you as you reel in some big amberjack during the season.
Don't Go it Alone in August
August's heat makes it a little bit difficult to find the amberjack so you can benefit from choosing a Destin fishing charter. If you go it alone, you might not find the allusive fish. On the other hand, if you hire a Destin fishing charter, you and your friends might all walk away with one of these fish. Thanks to big minimum size limits, it just might be a trophy fish that you can brag about to your friends.
Restrictions
There are some restrictions on amberjack to keep in mind if you go out on a Destin fishing charter. You can only keep one amberjack so if you want to have a fish fry after your trip, bring several of your friends. That way, you can each bring in one of the fish. They also have to measure at least 34 inches fork length. These bad boys will definitely feed the troops so that is good news.
Other Fish
Don't make the mistake of only going out for amberjack. You should also try to catch some other fish during your Destin fishing charter. There are tons of fish biting right now, including mingo, snapper, and mahi mahi. See what you can reel in during your trip so you can enjoy some good eating that night.
Start by booking a Destin fishing charter and then get ready to have an amazing time out on the water.
This entry was posted in Destin Fishing Info, Destin Florida Deep Sea Fishing. Bookmark the permalink.