Kayak Fishing Destin
April 17, 2015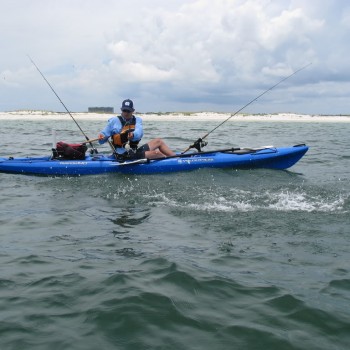 You don't have to charter a big boat to go fishing in Destin. In fact, kayak fishing is really popular. Kayak Fishing Destin offers kayak fishing for people of all skill levels. If you ant to see what you can catch on a kayak, this is the company for you.
What is Kayak Fishing Destin?
Kayak Fishing Destin is a guide service. The guide will talk to you about the best time to go kayak fishing. Then, you will come up with a time and place to meet. Once you arrive, you will go out on the water with the guide and catch some fish.
The Trip
When you take a trip with Kayak Fishing Destin, you can expect to have a fun time. The trip begins with an instructional overview of kayak fishing. This instruction will include an overview of your gear. You can ask any questions you have and then you will be ready to hit the water. Once out on the water, the guides will rig your tackle and help you bring your fish onboard. They will also take pictures and videos of you so you can always remember the experience.
The trips last for about 4 hours but you can add more time if you want. The company will give you a quote for the amount of additional time you want to add.
Additional Information
You need a fishing license to go out with Kayak Fishing Destin. You should also wear clothing that will protect you from the sun. Sunglasses and a hat are also a good idea. In addition, bring some drinks and snacks. You can bring beer when you go out with Kayak Fishing Destin.
Kayak Fishing Destin will provide you with a fun trip out on the water. If you have always wanted to give kayak fishing a try but you weren't sure how, contact Kayak Fishing Destin today.
This entry was posted in Kayak Fishing. Bookmark the permalink.